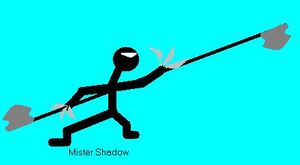 If you are looking for the Stick Empires Wiki, click here.
Welcome to the Stick Empire Library Wiki
Welcome to Stick Library, a collection of fan stories based on Stick Wars, Stick Wars 2, and Stick Empires. With the revival of this wiki, Bureaucrat Pax Orderia and Admin GAK16 have been working to make this wiki thrive again. This wiki took a sharp turn in 2014 with the decline of Simsim40, the old admin, but the wiki is now once again operational.
Stick Empires/ Stick Wars 2/ Stick Wars are not for children below the age of 7 based on blood, violence, and weapons
Basic Information
Stick Empires is an online virtual world created by Jason Whitman, and of course the great Crazy Jay.
Stick Empires features the same gameplay style as Stick Wars 2. Stick Wars 1 follows the same story, but has a different style of gameplay.
Featured Poll
This changes every week.
Which is your favourite empire in Stick Empires?
Check out the Previous Featured Polls.
Featured Articles
This changes every week
Wayne Hook was a young man working at Denlur Institute as the Professor Of Microbic Radiation. Wayne, throughout the story is a guy who 'more'...
Grifo Odilombar was a Great Knight known for his rebellious tendencies and hatred of authority. He was not of noble birth, nor did he go through 'more'...
Wiki Issues and Notices
This Wiki has been very quiet for a long time until 2018 and the only real admin (Simsim40, as well as one or two admins from the Stick Empires Wiki) left after 2013, along with the acting admin Perat in 2014. Therefore, I have adopted this Wiki as its new admin and bureaucrat, with GAK16 as the second admin, in an attempt to revive it, so please do help to contribute ideas for stories as they are very much appreciated, or this Wiki will die completely again.
Yours sincerely,
Pax Orderia, Bureaucrat and Admin