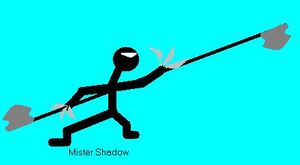 If you are looking for the Stick Empires Wiki click here

Welcome to the Stick Empire Fan Stories Wiki
Edit
what is Stick Empires? Stick Empires is a online virtual world created by Jason Whitman, and of Course the great Crazy Jay.
This wiki is dedicated to Fan ideas of Stories of the Game, Factions, etc.
Here you will see messages from Mr. Shadow. Mr Shadow is the official Mascot of the wiki.
While you are here why not Check out the Stick Empires Wikia run by TheRealJuiceBox. It's worth it.
This game is not for children below the age of 7.
Describe your topic
Edit
The Wiki is all about your Stick Empires and Wars fan stories. It is basically a stick Library.
Put your Battles in the Battle Oaths page. If you need help for names check the Stick names page. And While you are here sent ideas for Stick war 3.
Featured Poll
Edit
This changes every week.
Who is the most psycotic Killer?
Check out the Previous Featured Polls.
Featured Article
Edit
Kill was part of a high class family ruling a village. His family had been rivals with another high class family known as the 'more....'
Featured Images
Edit
Affliates and Asociates
Edit
Stick Empires Wiki[1]
Stick Empires Game Guide[2]
Ad blocker interference detected!
Wikia is a free-to-use site that makes money from advertising. We have a modified experience for viewers using ad blockers

Wikia is not accessible if you've made further modifications. Remove the custom ad blocker rule(s) and the page will load as expected.